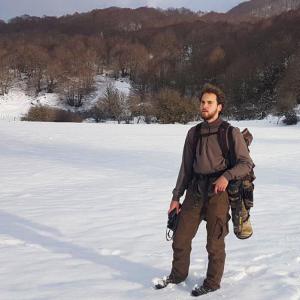 Gianluca Damiani, born in 1998 in Rome, is a nature photographer and a student of natural science at the Sapienza University of Rome.
Since he was a child, he had found nature and wildlife fascinating. To observe it closer, he approached, for the first time, nature photography at the age of 10.
In recent years, he has had the opportunity to immerse himself in the Central Apennines' wilderness, where he has discovered more about animals' behaviour and habitats' ecology, subjects always appearing in his pictures.
He sees photography as a means of spreading knowledge and of raising awareness about nature and its universe.
As a volunteer, he works on faunistic and scientific projects. Many of his pictures are printed in natural history books, illustrating scientific articles and editorials.
He won the "Overall First Price" in the 2017 edition of the photo contest "Fotografare il Parco".